So this summer has seen a steady range of games played out, mainly by my son and I while he's been home from uni, but also roping in my wife (usually reluctantly) and a few games at Eric the Shed's or my friend Andrew's.
Games played over the summer have included...Twilight Struggle, Conan, Star Wars: Rebellion, Command & Colours Ancients, Kingmaker, Settlers of Catan, Advanced Squad Leader, Heroes of Normandie and Discworld: Ankh-Morpork.
As the summer holidays draw to a close we've managed to squeeze in a couple more games. At home we played a couple of games of Carcassone. this is one of the games that my wife does enjoy more than the more 'wargamey' games we've played (although she usually does pretty well at both). I don't need to say much about Carcassone...I'm guessing just about everyone has played it at some point buy it 's a fun game and it's easy to squeeze in a couple of games in an evening without much difficulty.
At Eric the Shed's we played my 2nd game of Massive Darkness.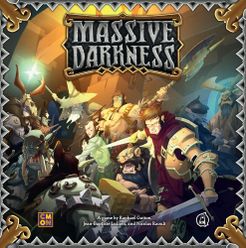 This a dungeon crawling style game which reminded me of a cross between D&D, Munchkin (without the jokes) and Heroquest. Eric had bought this as part of a Kickstarter and it came with a massive amount of really lovely figures...some of the large scale monsters are truly lovely and it's amazing to reflect on just how far figure sculpting has changed in the digital age. In the game all players are on the same side, exploring a dungeon which becomes progressively tougher as you advance through it. Luckily each players character, which conforms to a typical D&D type character class, can level up to (hopefully) match the monsters that appear far too rapidly. The game is great fun and really builds up the tension as everyone tries to complete the quest before they get overwhelmed by a succession of orcs, goblins and huge Wandering Monsters. As with so many of the newer boardgames that are appearing, the quality of the components is really impressive too.
There are a couple of games we didn't get to try out over the summer. Out of the depths of the loft emerged an old Avalon Hill game from the 80s...Gunslinger.
I haven't played this in about 30 years but I was keen to give it a try out as I have very happy memories of blazing away with my 6 gun (or dying in the dirt at the hands of the Apache etc). It uses a nice card based system to control actions and is simple but fun...or at least that's how I remember it! Revisiting the past can be a dangerous game so this may be a mistake but I'm keen to give it another go. Looking at the boards and the hex-sizes, I'm wondering if it might be worth getting some 1/72 cowboys to replace the counters to give it a more visual appeal, or even going all out and porting the boardgame over to a tabletop version...shouldn't be too difficult.
At the weekend I was up in Glasgow visiting my parents for a few days and took the chance to pop into Static Games in the city centre. It's a nice little games shop although I usually have a browse and then leave empty handed, having resisted temptation. On this occasion I spotted a copy of Wilderness Empires by Worthington Games reduced heavily to a very good bargain price.
I debated buying it in my head for a while and then decided that I didn't actually need the game and went home. Of course I'd no sooner got home than I realised that needing and wanting are 2 very different things. Luckily I had to pop back into town a day or so later so I ended up buying it after all! It was pretty inevitable!
The game is a strategic 'grand campaign' covering the French and Indian War. Reviews on Boardgamegeek etc look pretty good so watch this space and I'll try and get a proper review up soon.
Now that the summer is drawing to a close, the nights are drawing in, etc, etc, it's time to try and get back to painting....